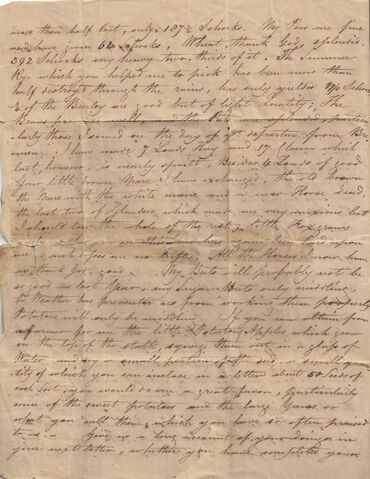 more than half lost, only. 187 1/2 Schocks. My Peas are fine
and have given 64 Shocks,  Wheat, thank God, splendid,
392 Shocks very heavy two-thirds of it. The Summer
Rye which you helped me to pick has been more than 
half destroyed through the rains, has only yielded ??? Schlock,
3/4 of the Barley are good but of light quality; , The 
Beans ???? well , and the Oats are splendid, particu-
-larly those I sowed on the day of yr. departure from Bre-
-men. I have made 7 Loads Hay and 17 ???ove? which 
last, however, is nearly spoilt, Besides 4 loads of good.
Your little brown Mare I have exchanged, the old brown
the Mare with the white mane and a new Horse dead,
the last two of Glanders, which made me very anxious lest
I should lose the whole of the rest ? little Fox grows 
nicely ?? ?? ?  has again been heard upon 
?????? such ??? are no trifles. All the horses I now have
are thank God, good.    My Beets will probably not be 
as good as last year, my Sugar-Beets only middling, 
the weather has prevented us from working them properly, 
Potatoes will only be middling. If you can obtain from 
a farmer for me the little Potatoe Apples which grow 
on the top of the stalk, squeeze them out in a glass of 
water and try a small portion of the seed, a small quan-
-tity of which you can inclose in a letter about 50 seeds of
each sort, you would do me a great favor, particularly 
some of the sweet potatoes and the large Yams or 
what you call them, which you have so often praised
to us. - Give us a long account of your doings in
your next letter, whether you have completed your



Licensing:
Edit
This file is in the public domain
Appears on these pages

of
Bennewitz, by Halle a/S 13st August 1851 My Dear William,
File history
Click on a date/time to view the file as it appeared at that time.
Metadata
Ad blocker interference detected!
Wikia is a free-to-use site that makes money from advertising. We have a modified experience for viewers using ad blockers

Wikia is not accessible if you've made further modifications. Remove the custom ad blocker rule(s) and the page will load as expected.